Balancing the costs and benefits of secured versus unsecured lending in today's economic climate will continue to pose a challenge for credit union executives as all loans assets are not the same. Changing consumer preferences and usage patterns since the Great Recession complicate the challenge of managing loan product portfolios.
According to CUNA and TransUnion, the percentage of unsecured loans as a share of total credit union loans dropped slightly in May 2017 over the previous year. During this same period, according to Callahan Associates, credit union executives continue to cite a growing need to find new and emerging sources of non-interest income, often generated by these unsecured loan products.
The Great Recession saw a seismic shift in consumer behavior relative to how they viewed and used different types of loan products. As homes became de-valued, consumers were willing to allow their home loans to become delinquent and walk away from an upside-down mortgage. Consumers began to rely more heavily on unsecured credit to manage through financial challenges. This reliance led to an increase in losses on these unsecured products during the post-recessionary period.
With home values rebounding, consumers are now putting more value into their secured loans. However, consumer de-leveraging remains an issue as the credit card industry has not rebounded to pre-recession debt levels. This creates a challenge for credit unions to drive credit card balance growth. Credit unions must sign up more accounts to generate growth, as well as employ a robust existing-member marketing program to optimize per-account drivers and return.
Demand for secured personal loans, auto loans, home loans, and loans for luxury items like furniture or boats, are forecasted to further increase in 2017. While a stronger employment market is contributing to a growing sense of security and optimism among U.S. consumers, it is not the only reason for an increase in borrowing. Wage stagnation, a fall in gas prices and an increase in auto purchases are contributing factors to the rise in demand for secured loans, according to reports from Microbilt and the Federal Reserve.
For credit unions, secured loan growth continues at a double-digit pace with the average member relationship expanding to its highest level ever. The driver of secured loan growth over the past 20 years has been in residential real estate lending, particularly home mortgages and home equity lines of credit. The Fed says residential real estate loans and auto loans have comprised about 85% of credit unions' loan portfolios since 2000.
Credit unions face growing challenges in the unsecured lending arena. Costly overhead, resource allocation, lack of robust marketing expertise, shifting consumer patterns, increasing delinquency rates, regulatory changes, and intense competition for the most credit-worthy members contribute to the complexity of offering secured loans. These challenges create a disparity in loan growth when comparing the relative scale of credit unions that offer both secured and unsecured loan products, suggesting that unsecured loan management requires a certain scale to effectively manage the challenges of this type of lending.
What does the future look like for losses for secured versus unsecured products? The current historically low loss rate is unlikely to be sustained. While home loan delinquencies fall and auto loan delinquencies remain flat, credit cards are beginning to show an upward trajectory on the percentage of card loans delinquent to total loans.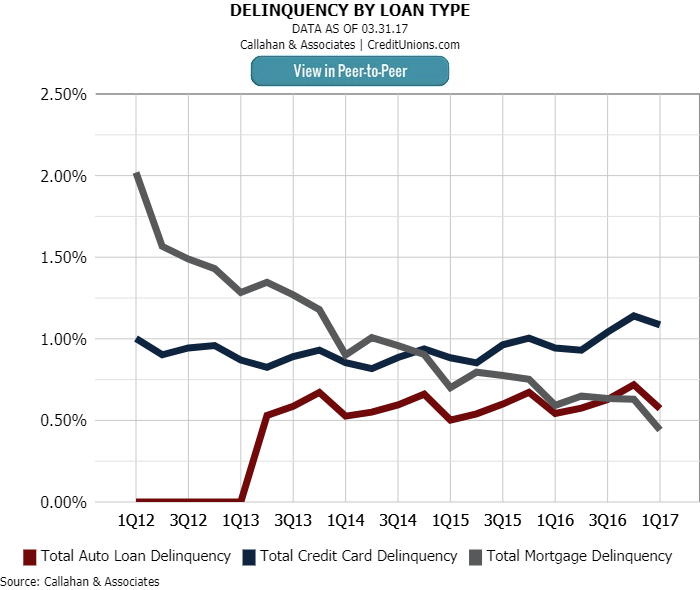 Another risk is the peer-to-peer (P2P) market. Technology is bringing about radical change in the unsecured lending arena. P2P lenders, such as Amazon Cash, are challenging traditional lenders with lower interest rates, online capabilities, and easy access to funds. The target markets for P2P lenders are the highly desirable segments millennials and high-income earners and there are signs that they are making inroads into those markets. Traditional lenders must compete in offering P2P benefits without compromising the advantage they have in the trust, reliability, and experience departments, say reports from Mintel and Retail Insights.
Credit unions face growing challenges in the unsecured lending arena. With Elan Financial Services as a strategic partner, credit unions are better able to manage marketing resource demands, shifting consumer demands, underwriting risk and the regulatory environment. While Elan works with our partner to focus on growing credit card portfolios, credit unions can focus on deepening their relationships with their members across multiple loan touch points.
Click here to download the full Facing the Challenges of Unsecured Lending white paper.
For nearly 50 years, Elan has delivered a best-in-class credit card program, card products and exceptional service to its valued credit union partners. Today, Elan helps over 250 credit unions navigate the rapidly changing card issuance landscape. Year after year, our partners remain pleased with the Elan solution, as Elan has seen a more than 95% renewal rate.
For more information, visit www.cupartnership.com.