Top-Level Takeaways
VSECU has joined a global alliance of financial institutions that track the carbon impact of their loans and investments.

The credit union uses money market deposits to fund energy-related loan products.

The Vermont cooperative offsets its own electricity usage with an array of solar panels.
CU QUICK FACTS
Vermont State Employees Credit Union
Data as of 12.31.18
HQ: Montpelier, VT
ASSETS: $778.2M
MEMBERS: 66,499
BRANCHES: 10
12-MO SHARE GROWTH: 4.0%
12-MO LOAN GROWTH: 5.5%
ROA: 0.71%
The Green Mountain State hosts what might be the greenest credit union in the country.
Product lineup and philosophical alignment alike make Vermont State Employees Credit Union ($778.2M, Montpelier, VT) a poster child for credit union environmentalism as Earth Day arrives.
Open to anyone who lives or works in Vermont, VSECU has a lineup of loans, savings products, and vendor and association partnerships organized under the VGreen label. The credit union offsets its own electricity use with an array of solar panels, and it's a member of an international coalition of financial institutions committed to combating climate change.
Our commitment to these principles of sustainability is an integral piece of our mission as a member-owned financial cooperative, says CEO Rob Miller, a self-described collaborative leader and social capitalist who has led VSECU into a diverse array of community and economic development initiatives including co-working spaces since taking the helm in April 2014. For us, it always comes down to leading with values and trying to figure out how to put mission and shared values in front of all we do.
It's also good business.
VSECU has a lineup of loans, savings products, and vendor and association partnerships organized under the VGreen label.
Connecting on principles such as environmentalism and community building is our best opportunity to stay relevant in the highly regulated, spread-compressed environment we operate in, Miller says. This is a tough space. Consumers have a lot of choices, and it's increasingly important to them to know they're doing business with an organization that has more purpose than just making money
VSECU has been performing close to peer averages in share, loan, and income metrics while reporting strong growth of 30% to 50% every year the past few years in its VGreen loans, which cover a lot of ground.
If you're considering a solar energy project, weatherization, a heating system upgrade, energy efficiency appliances, a new bike, or a new high-efficiency heat pump, there's a VGreen loan that can help you achieve long-term energy savings, the VSECU website says
LOAN-TO-SHARE RATIO
FOR VSECU | DATA AS OF 12.31.18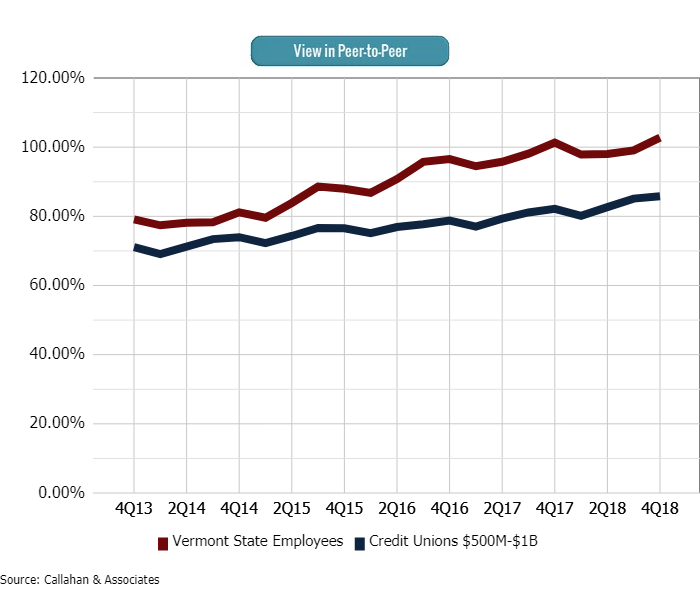 VSECU's loan-to-share ratio has risen steadily since Rob Miller became CEO in mid-2014, peaking at 102.74% at year-end 2018. The average for the 243 credit unions in its asset class nationwide was 85.82%.
VGreen program director Laurie Fielder says approximately 35% of her program's originations are for energy improvement loans that qualify for federal investment tax credits, with the rest spread among green vehicle loans, mortgages, home equity lines, and even an off-the-grid loan for people who want to really unplug.
The asset value of the loans has been strong, Fielder says, but underwriting them does involve some differences including calculating projected energy savings while considering ability to repay from traditional lending.
For example, if an applicant is replacing an oil furnace with equipment that uses renewable wood pellets, they could save $200 a month, according to Fielder.
VSECU uses deposits from its VGreen money market offerings to fund its energy-efficiency and renewable energy loans.
That can be a tipping point when you're looking at the whole underwriting picture, the VGreen director says.
VGreen loans at VSECU comprised approximately $59 million of the credit union's total loan portfolio of $669.03 million at the end of 2018. That's up 5.48% from year-end 2017. Sharpest growth was in the all other loans category, which rose 16.75% in the past year to $131.10 million.
As for savings, there are two VGreen money market offerings, one for individuals and one for businesses. VSECU currently has 793 of those accounts, worth in the ballpark of $46.7 million, Fielder says.
VSECU uses all those deposits to fund its energy-efficiency and renewable energy projects and purchases. They're the only money market accounts the credit union has, and they represent approximately 8% of total shares.
Integrated lending administrator Christine Davidson (left) and VGreen program director Laurie Fielder in front of a car belonging to SunCommon, one of the credit union's VGreen vendor partners.
Some of those accounts belong to participants in the credit union's vendor partner program, business people such as solar panel installers and others, all of whom must pass muster when the credit union does its due diligence to ensure the supplier's values aligns with its own. Some of them have become members as a result.
Like a lot of people, they're thrilled to find a financial institution that shares their values, Fielder says. They want their money to sleep at night with us.
It's a popular program, and the VGreen staff and VSECU lenders are working to keep up with loan demand and stay abreast of advancing green energy technologies. So, currently, VSECU isn't adding new vendor partners.
Connecting on principles such as environmentalism and community building is our best opportunity to stay relevant in the highly regulated, spread-compressed environment we operate in.
It's still kind of a work in progress, Fielder says. We're working hard to manage the growth of the program with the vendors we already have.
She does expect the energy efficiency business to continue to stay hot in VSECU's cold neck of the woods, especially as combatting climate change becomes more important to the credit union's membership.
We heard from the beginning there was no way to finance a lot of these investments, the VGreen program director says. We're here to do that. Climate change is as important a challenge as there is, and this is a way we can address it together.
VSECU CEO Rob Miller (left) and Soveren Solar owner Peter Thurell at the credit union's power array in Guildford, VT. VSECU buys and retires the solar net metering credits produced by the array to offset the credit union's power bill, making its electricity use 100% renewable.
VSECU's commitment extends beyond its member base. It recently became one of three U.S. credit unions to join the Climate Change Commitment (3C Initiative) of the Global Alliance for Banking on Values. The other two are Verity Credit Union ($587.2M, Seattle, WA) and Missoula Federal Credit Union ($524.4M, Missoula, MT).
The GABV is a network of more than 50 financial institutions on six continents committed to using finance to deliver sustainable economic, social, and environmental development. Its 3C Initiative is a three-year effort by the group to monitor and mitigate the carbon impact of their portfolio of loans and investments.
The GABV is working with Navigant, a global consultancy, to use the measurement methodology developed by a group of Dutch banks known as the Platform for Carbon Accounting Financials (PCAF) to calculate the greenhouse gas emissions of their loans and investment portfolios.
The 3C Initiative is directly in line with what Vermont leaders are doing, both in terms of the state's Comprehensive Energy Plan goal of meeting 90% of our energy needs from renewable resources by 2050 and Gov. Phil Scott's commitment to the U.S. Climate Alliance, Miller says. We look forward to working with members around the world as we advance the movement of values-based banking to meet the challenges of tomorrow, specifically around mitigating climate change.
Analyze Loans With Ease
Are your lending strategies working? It takes minutes to compare your lending portfolio to other credit unions with Peer-to-Peer. Compare against credit unions in your state, asset range, or by business model.
Learn More