Top-Level Takeaways
Cannabis banking is driving unprecedented growth at North Bay Credit Union; however, it could be shut down if the political winds shift.

Traditional mortgage and agricultural lending, especially to vineyards, also are major sources of growth at the Bay area institution.

Many risks, including the threat of wildfires, factor into the credit union's planning.
CU QUICK FACTS
North Bay Credit Union
Data as of 09.30.19
HQ: Santa Rosa, CA
ASSETS: $71.3M
MEMBERS: 2,540
BRANCHES: 4
12-MO SHARE GROWTH: 48.9%
12-MO LOAN GROWTH: 47.7%
ROA: 1.10%
North Bay Credit Union ($71.3M, Santa Rosa, CA) is a small cooperative with a big appetite for risk when it comes to seizing the opportunity to serve emerging needs in its field of membership.
The Santa Rosa-based cooperative is the only financial institution that openly serves the legal cannabis market in the San Francisco area as the agricultural base it has long tended blends with suburban growth.
North Bay also continues to lend to grape growers and has a large stake in mortgages carving out a niche in manufactured housing in an expensive housing market in a region notoriously prone to wildfires, landslides, and even the occasional major earthquake.
The North Bay has been traditionally an agricultural region, says CEO Chris Call. We're in the heart of wine country, but it's rapidly developing into weed country with the proliferation of legal cannabis farms, manufacturers, and retailers.
Scenic marketing collateral captures North Bay's beginnings as Sonoma County Grange Credit Union.
The cannabis business is driving exponential growth at North Bay. The credit union began offering cannabis services in 2018, and its assets surged from $49.3 million in the third quarter of that year to $71.3 million at the same point in 2019.
That increase in deposits is fueling more lending to traditional borrowers, especially in North Bay's mortgage portfolio, which jumped from $26.6 million in the third quarter of 2018 to $42.1 million one year later.
Call expects that growth to continue. He says North Bay's assets could potentially triple in the next five years, and the member-owned cooperative is preparing for complications.
SHARE GROWTH
FOR NORTH BAY CREDIT UNION | DATA AS OF 09.30.19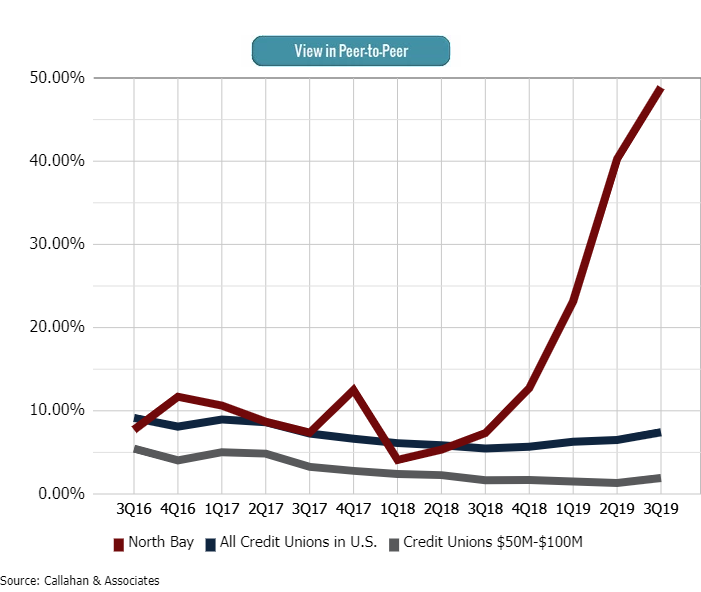 Share growth has soared at North Bay since it began cannabis banking in 2018. The credit union reported 48.9% year-over-year growth in the portfolio in the third quarter of 2019. By comparison, share growth was 7.4% for all U.S. credit unions and 1.9% for credit unions with $50 million to $100 million in assets.
The Biggest Threat Is Manmade
Although it might seem nature is the biggest threat to North Bay's ag-heavy business model, Call says the biggest potential problem is man-made.
If the political winds shift and the federal government decides to crack down on the cannabis industry, it could require us to close down all our accounts and stop accepting new ones, Call says.
Chris Call, CEO, North Bay Credit Union
That's because, as Call points out, North Bay could technically be violating federal money laundering laws by handling cannabis-related depository accounts.
Because of that, we need to have an airtight process to ensure we are not the vehicle for introducing illegal funds into the financial system, the CEO says.
And according to Call, that process includes a heavy investment in staff and technology. Since launching checking and savings services to cannabis operators in 2018, the credit union has added 10 staff members who do background checks on operators and analyze their finances and tax returns. The employees also conduct due diligence on money exchanges between member companies, their vendors, and their customers.
North Bay even charters armored trucks to ferry cash between cannabis businesses and the Federal Reserve Bank in San Francisco, keeping that cash out of the local branches. This speaks to a major reason North Bay stepped up as others stepped away from the opportunity to provide an important community resource the credit union way.
We've taken almost half-a-billion dollars of hard currency off our streets, removing the threat of crime and violence from those who would illicitly obtain those funds, Call says. Credit unions were created to fill the void left by banks in serving the needs of people and businesses turned away by banks.
That philosophy led to the creation of North Bay Credit Union and it drives its future.
AVERAGE MEMBER RELATIONSHIP
FOR NORTH BAY CREDIT UNION | DATA AS OF 09.30.19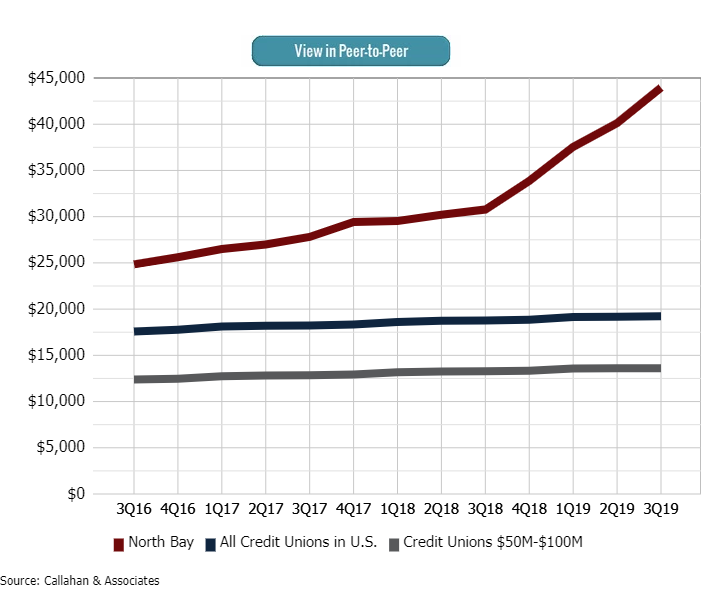 Powered by cannabis banking, North Bay's average member relationship jumped to $43,958 in the third quarter of 2019, compared with $19,236 for all U.S. credit unions and $13,612 for its asset-based peer group.
Responding To Change While Hewing To Roots
Sonoma County Grange Credit Union was created by farmers in 1948 to help them buy land and equipment when no one else would lend to them. Now, the cooperative's potential membership includes all 500,000 residents of Sonoma County and, through SEG affiliations, cannabis operators from around the state.
We've changed tremendously in the past five years, says Call, who took the helm in 2014 after more than two decades as an entrepreneur, consultant, and CFO for American AgCredit. We changed our name, adopted a community charter, got a low-income designation, opened branches, moved our headquarters, and pioneered a cannabis banking program.
What hasn't changed is how the credit union seeks ways to serve people the banks won't.
The banks won't touch manufactured housing, so that's an opportunity for us, Call points out.
The credit union's lending metrics reflect that. A full 78.6% of North Bay's loan portfolio was composed of first mortgages as of the third quarter, nearly twice the national average for all 5,396 U.S. credit unions. Its first mortgage penetration was 4.1%, compared with 2.40% nationally.
North Bay also remains involved in the agricultural community. It still makes approximately 20 zero-interest loans per year to 4-H youngsters raising livestock for county fairs, and in the past four years, it has made six loans of $500,000 to $2.3 million to vineyards through Farmer Mac.
North Bay opened its new Santa Rosa administrative office and branch in August 2019.
Planning For And Around Risk
Agriculture is a risky business, and wildfires, like the devastating blazes that torched Sonoma Valley and Santa Rosa in 2017 and the northern part of the county this year, are a recurring reality.
Like with home mortgages, North Bay requires its agricultural borrowers to be properly insured and works with them to mitigate the risk when they can.
Vineyards actually acted as firebreaks in our recent fires because they're irrigated and don't supply dry fuel, Call says.
The farm buildings, however, did not fare as well. Call says vineyard operators are a closely connected community, though, and they help one another when disaster strikes. That's another layer of safety that acts to the benefit of borrowers when the credit union can't.
Beyond making sure insurance is in place and properties are adequately taken care of, there's not much else we can do other than hope the fires are contained when they do happen, Call says.
Purpose=Impact
Purpose-driven organizations outperform the market, have an easier time attracting and retaining employees, and are changing the way businesses think about their roles and responsibilities to society.
Sustainable Business Strategy with Rebecca Henderson teaches credit union leaders that being purpose-driven is more than being a community-forward organization and helps them re-examine their part in ensuring the long-term prosperity of members, employees, communities, and the environment.
That doesn't mean the credit union doesn't plan for the worst. In fact, according to Call, disaster planning is a year-round process, formally and, when necessary, on the fly. That's the risk of doing business in fire country.
Combine that with interest rate, lending, and regulatory risk the latter exacerbated by the uncertainty of the cannabis banking business and Call finds himself regularly involved with preparing for the expected and unexpected alike.
We do most likely, best-case, and worst-case scenarios, the CEO says. Call and his senior team do much of the work themselves, including shock tests on their financials, and share the results with board members to collectively determine their appetite for risk and their response.
Seeking Fairly Safe Havens
North Bay has added three branches to its footprint in the past three years. And although it placed them in areas deemed underserved by competing banks, rather than in areas safe from wildfires, Call says he thinks the new locations are in fairly safe places.
Those branches also serve as redundant sites in case one or more are affected by nature's wrath, which happened recently when three of the credit union's four facilities had no power amidst utility-imposed blackouts.
North Bay further hardens its infrastructure through the use of a cloud-based network environment with servers located in a secure remote data center, ensuring digital access around the clock.
We anticipate risk and ensure we have the financial and operational capabilities to sustain a moderate recovery period, Call says. Our planning is heavily influenced by the intent to have sufficient cushion and fallback positions that will get us through any immediate crisis.