Top-Level Takeaways
InFirst took inspiration from Costco when designing its new VISA Rewards credit card.

The credit union wants to better communicate the value of cash back rewards to membership.
In June of 2016, Costco the world's second-largest retailer after Wal-Mart ended its exclusive partnership with American Express. Now, it accepts all VISA-branded cards and offers a revamped cash-back program on its own Costco Anywhere Visa.
The new Costco card offers 4% cash back on up to $7,000 in gas purchases per year and 1% on gas purchases after that. In addition, the card offers 3% cash back on restaurant and eligible travel purchases, 2% cash back on Costco purchases, and 1% on all purchases.
The new program proved inspirational for InFirst Federal Credit Union ($172.8M, Alexandria, VA), which was already considering how to revamp its own VISA Rewards credit card.
CU QUICK FACTS
InFirst FCU
Data as of 06.30.17
HQ: Alexandria, VA
ASSETS: $172.8M
MEMBERS: 11,555
BRANCHES: 5
12-MO SHARE GROWTH: 3.3%
12-MO LOAN GROWTH: 15.5%
ROA: 0.40%
We looked at Costco and said we wanted to do one better, says Jeff Parish, the credit union's chief marketing officer.
The result? Well, an impressive rewards program that offers:
4% cash-back on all gas purchases.
3% cash-back on all restaurant and travel.
2% cash-back on all grocery stores, superstores, and wholesale clubs.
1% cash-back on all other purchases.
And unlike the Costco card, which requires membership to the club, InFirst's card has no annual fee.
In this QA, Parish discusses card affordability, outreach, and best practices in redeeming rewards. ContentMiddleAd
What drove InFirst to redesign its credit card rewards program?
Jeff Parish: A rich rewards program attracts members to the credit union and keeps us top of wallet with our current members.
How does the credit union justify the cost that comes with this level of rewards?
JP: We pay for the cost of rewards that are claimed. I think that's why some credit unions have shied away from rewards cards. For us, however, we wanted to be top of wallet.
Rewards stimulate the use of the credit card and bring in additional members. And then, of course, there are the side benefits interchange income from card use as well as interest income from those people who carry a balance. That's how we look at it and how we justify the costs.
Click through the tabs below for a deeper dive into InFirst's credit card portfolio. Click on the graphs to view in Peer-to-Peer. Don't have Peer-to-Peer. Request a demo here.
Interest Income/ Total Income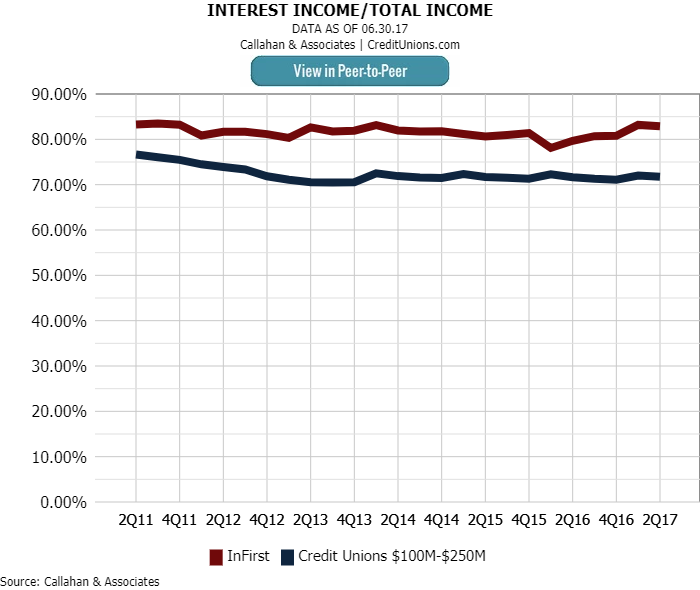 InFirst's interest income has grown by more than three percentage points year-over-year.
Credit Card Loan Balances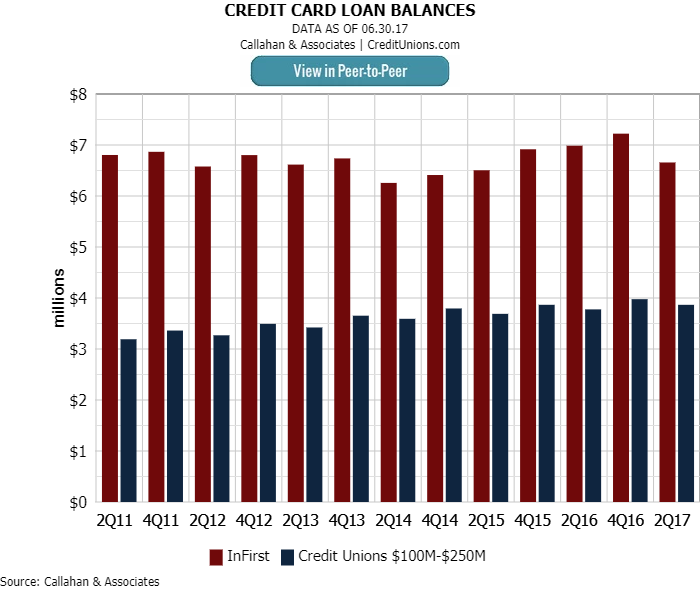 In second quarter 2017, InFirst's total credit card loan balances were $6.7 million. That's nearly $1.6 million more than the balances of peers with $100 million to $250 million in assets.
Credit Card Loan Growth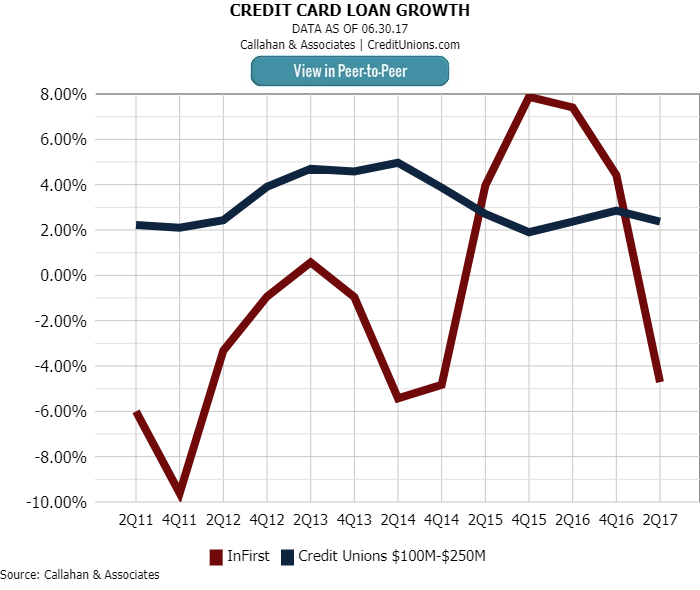 InFirst's new credit card spurred portfolio gains across 2016, above peer average, before posting a negative growth in second quarter 2016.
Average Credit Card Loan Balance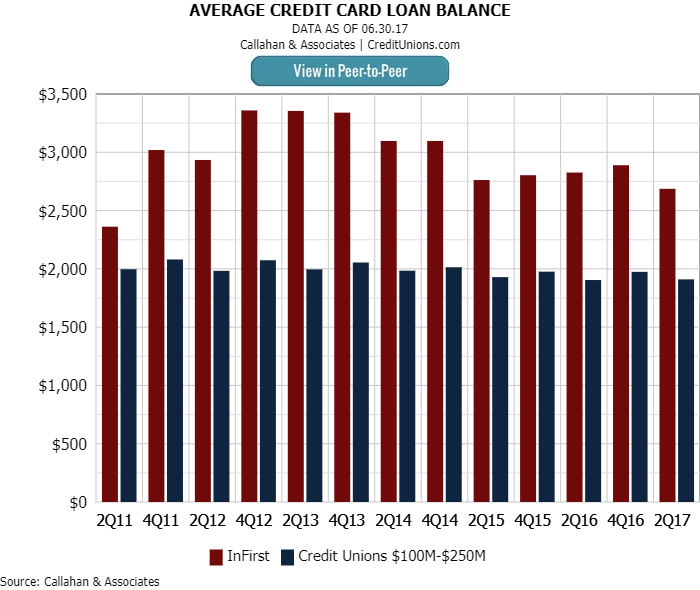 The credit union's average credit card loan balance has historically ranked above peer average. In second quarter, InFirst's average credit card loan balance was nearly $800 more.
Credit Card Penetration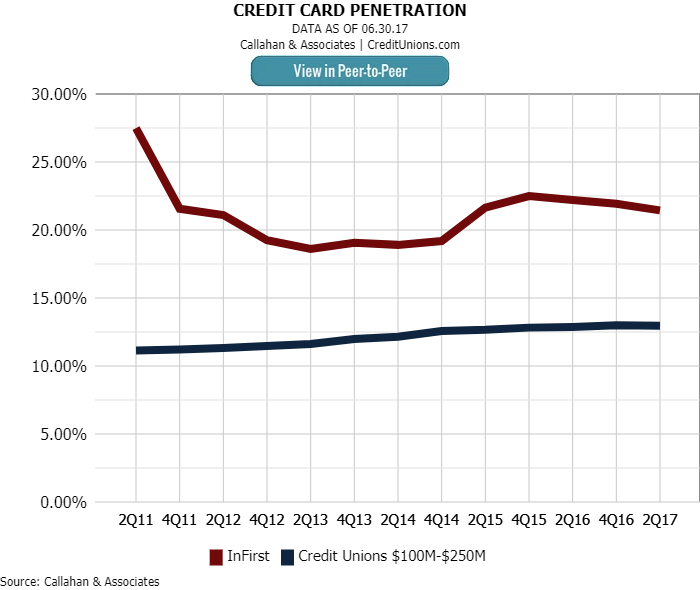 Although slightly down in second quarter, the credit union's credit card penetration rate of 21.45% sits 8.5 percentage points higher than peer average.
Are there any income or credit score stipulations?
JP: The monthly APR is credit-based. After the introductory rate [1.99% for six months], the rate adjusts to between 10.90% and 17.90%. Without getting into the specifics of the decisioning, credit does play a role, but I find it easier to get a credit card with us than with a lot of other places.
When we redid our rewards program, we also introduced a Young Adult VISA Rewards card for 18- to 25-year-olds. The card has the same rewards benefits and introductory rates and no annual fee. Cardholders do not need a credit score to qualify, as many people starting off do not have credit scores. Once they turn 25, we convert them into the regular portfolio.
How does InFirst market this product, and how do you target the cardholders you want to bring in?
JP: For us, the most effective form of marketing is digital mail. We have a company that handles that, but without buying marketing lists, it's hard for us to find people who are not already members.
We also have a tool on our website, mobile app, and social media that calculates savings for members switching to our credit card.
InFirst uses Shastic to calculate what members will save by switching to a credit union credit card. Find your next partner in Callahan's online Buyer's Guide. Browse hundreds of supplier profiles by name, keyword, or service area.
And recently, we've found social media to be an effective channel. If we can get somebody to review or say something about their credit card and how much they enjoy it, it means more and is going to attract more business than us promoting it.
This is the only card InFirst offers. How has the response been?
JP: We don't have nearly 100% penetration with our members, but the number of credit cards we issue continues to grow. Each time we do a promotion we see a nice bump our number of cards.
What lessons have you learned by offering this rewards card?
JP: People are earning points and can redeem them for cash back, travel, merchandise, or gift cards, but not all people understand the biggest bang for their rewards buck comes from the cash back. We need to do a better job of communicating the fact that cash back really is the best option.
This interview has been edited and condensed.